Hey Everyone!
I created this video because it was requested by a few Glammies from my
FEBRUARY GLAM BAG
video :) It's super easy and fast once you get the hang of it. I use my Chi Flat Iron to do most of the curling because it gives less of the "Curley Q" curls and more of a wave. You can use whatever works for you though!
Here are the hair products I used and prices, etc...
Most of them I bought at the drugstore, but Walmart would be the cheapest place to find them. I had a hard time finding the Big Sexy Hairspray so I ended up getting it at a Hair Salon (which was pretty pricey - around $18). Amazon has it for $11 and that's a great deal.
---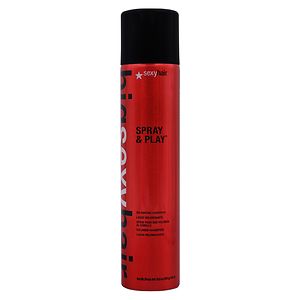 Sexy Hair Concepts
Big Sexy Hair Spray & Play Volumizing Hairspray
price:
$11.61 @ drugstore.com
*I bought mine at a Salon for $18 but online is cheaper*
It's always Better when it's Bigger!
No Animal Testing.
Sold only in a professional salon.
Made in USA
Additional Product Information:
We are not associated or affiliated with Sexy Hair Concepts and are not a licensed retailer of Sexy Hair Concepts. Sexy Hair Concepts guarantees this product only when sold through authorized retailers, and cannot guarantee the authenticity of any product sold by an unauthorized retailer. We cannot guarantee that this product is covered by any manufacturer's warranties or eligible for any manufacturer's rebate. If the UPC codes or other tracing codes are missing from any product container of a Sexy Hair Concepts product, please retain your purchase receipt to assist in the tracing of that product in the unlikely event it is defective.
♥♥♥♥
Here's where you can find me! Come say hi
♥♥♥♥
♥♥♥♥♥♥♥♥♥♥♥♥♥♥♥♥♥♥♥♥♥♥♥♥♥♥♥♥♥♥♥♥♥♥♥♥♥♥♥♥♥♥♥♥♥♥♥♥♥
These are my all-time fav Subscription Services and some other great deals thru these links!
♥♥♥♥♥♥♥♥♥♥♥♥♥♥♥♥♥♥♥♥♥♥♥♥♥♥♥♥♥♥♥♥♥♥♥♥♥♥♥♥♥♥♥♥♥♥♥♥♥
All makeup brushes I use are by
Crown Brush
!
When you order from Crown you are eligible to win my monthly giveaway! All you have to do is add my name to your cart before checkout with